"I hope to completely revise the way I teach early American history by using the site as a way to look at pre-contact life, patterns of colonization and early New England life."
NEH Summer Scholars will receive required readings, including the book, Captors and Captives prior to the workshop and will be asked to read them before arriving in Deerfield.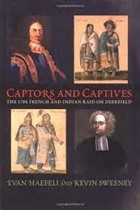 Readings
Sunday- An Introduction to "Place"
Chapters 4-6 from William Cronon's seminal work, Changes in the Land: Indians, Colonists, and the Ecology of New England. This interdisciplinary study illuminates how human agency by Native peoples and English settlers transformed the landscape.
Monday- Between Empires: Colonial New England
Captors and Captives discusses Indigenous, French, and English perspectives on the 1704 raid on Deerfield and places it in its social, political, and economic colonial context.

 

Scholar essays: "Explanations", "English Colonization", "A Brief History of Metacom's War", "English Puritanism", "French Catholicism", "French Colonization" and "European Land Use and the Transformation of the Northeast" from the Raid on Deerfield: The Many Stories of 1704 website

 

"Furnishing the Frontier: The Material World of the Connecticut River Valley 1680-1720" contains a brief, useful introduction about life in Deerfield at the end of the 17th/early 18th century. The booklet was produced in 2012 for an exhibit at the Historic Deerfield, Inc. Flynt Center.
Tuesday- Alliance and Conflict: Colonial and Native Perspectives
Colin Calloway's "The Abenakis and the Anglo-French Borderlands" (from New England/New France 1600-1850) discusses the wide range of relationships Abenakis maintained with both English and French people, that often countered wider Anglo-French imperial tensions.

 

Margaret Bruchac's Earthshapers and Placemakers: Algonkian Indian Stories and the Landscape

 

an excerpt from Indigenous Archaeologies: Decolonizing Theory and Practice by Claire Smith and H. Martin Wobst

 

Scholar Essays: ("Explanations") from Raid on Deerfield: The Many Stories of 1704; "English Puritanism"; "Epidemics and Social Disorder"; "French Catholicism"; "French Colonization"; "Native Diaspora and New Communities"; "Native Land Use and Settlements in the Northeastern Woodlands"; "Schaghticoke and Points North: Wôbanaki Resistance and Persistence."
Wednesday- "Traveling in Contested Territory": Field Excursion
The introduction and chapters 6-8 of The Line of Forts: Historical Archaeology on the Colonial Frontier of Massachusetts, by Dr. Michael Coe

 

Chapter 1 of The Common Pot: The Recovery of Native Space in the Northeast by Lisa Brooks

 

Chapters on the 17th Century from Two Essays: Chief and Greed, by Edmund Carpenter

 
Thursday- Slavery and Captivity in Early New England
"Slavery in a New England Town" essay in PVMA's Guide of Deerfield to African American Sites

 

Joanne Melish's essay "Slavery and the Slave Trade in Colonial New England"

 

Frank and Parthena's biographies and background information from the Raid on Deerfield: The Many Stories of 1704.
Friday- Captivity and Legacies
Chapters 1-3 of Ann M. Little's, The Many Captivities of Esther Wheelwright. Captured from her home in Wells, Maine when she was a young child, Esther Wheelwright's life experiences changed courses several times, from living with her Abenaki captors, to living with a wealthy French family, to joining the Ursuline order of nuns and becoming their Mother Superior. Little explores Wheelwright's life through the eyes of the females around her.

 

Margaret Bruchac's "Revisiting Pocumtuck History in Deerfield: George Sheldon's Vanishing Indian Act" offers evidence of the Pocumtuck people's presence in 17th, 18th and 19th c. Deerfield and points to the historical erasures that have obscured our understanding of the indigenous history and how this legacy has persisted into the 21st century.