The village of Deerfield, MA, is in a rural location with minimal public transportation (Uber/Lyft, bus that makes infrequent stops along a busy road). Within walking distance from the workshop site are the Historic Deerfield, Inc. gift shop and the Deerfield Inn, which includes a bar, restaurant, and ATM machine. Just south of the village, about ½ mile away, is a Citgo gas station/convenience store with an ATM machine. The town of Greenfield is 4 miles away and has a hospital and AEIOU urgent care facility, several pharmacies (including one with 24-hour service), grocery stores, motels, and a variety of shops and restaurants.
COVID-19 PRECAUTIONS
Depending on public health guidelines related to Covid-19, plans for a residential offering are subject to change.
Safety guidelines are liable to change as well, depending on what the state of Massachusetts and the Centers for Disease Control and Prevention recommend when the Living on the Edge of Empire workshops are to be held.
As of May 2022, the Deerfield Teachers' Center guidelines are as follows:
With the safety of Summer Scholars, faculty, and museum staff in mind, we prefer that those accepted into the Living on the Edge of Empire workshop provide proof of vaccination prior to the beginning of the workshop arrival. If that is not possible, please provide proof of a negative COVID-19 PCR test taken within 72 hours of the beginning of the Living on the Edge of Empire workshop.
Wearing a mask outside is optional, but wearing one in all indoor spaces is highly recommended unless you cannot wear one due to medical reasons.
Hand sanitizing stations and paper masks will be available in all PVMA spaces and in the dorm.
The Deerfield Teachers' Center of the Pocumtuck Valley Memorial Association is committed to providing a safe environment for all and thanks you in advance for following Massachusetts and CDC guidance on mask-wearing and all COVID safety regulations.
WHAT TO BRING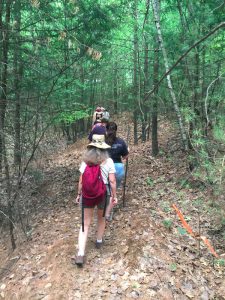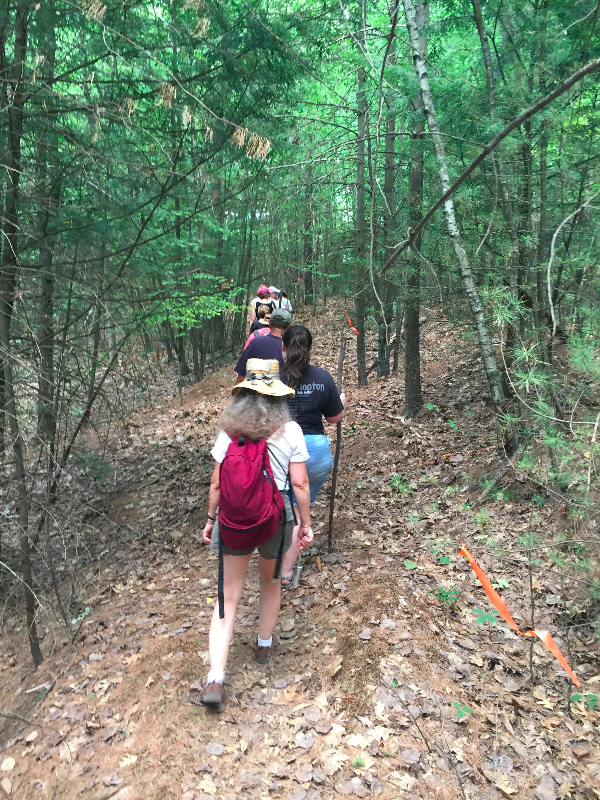 We will be spending time outside walking, not always on even ground. In New England this means you might want:
insect repellant

 

sunscreen

 

comfortable walking shoes

 

an umbrella and/or other rain gear
a hat

 

a water-bottle

 
Summers can be quite humid, with temperatures in the 80's-90's; however, evenings can be chilly so bring a sweater or light jacket. Casual attire is fine. Most of our workshop spaces and the dormitory are air-conditioned.
Don't forget:
readings (including the books that we sent to you)

 and flash drive.

cell phone & charger
laptop, tablet, etc.
some extra spending-money
toiletries and medications
Optional:
FOOD
Our first meal together will be an evening picnic on Sunday. Breakfast, lunch, snacks (with chocolate!) morning and afternoon, are provided every day, and dinner is also included on Tuesday and Thursday. Attendance at all meals is required as part of your professional development and costs (approximately $175) will be deducted from participant stipends. Because meals are pre-ordered and prepaid, we cannot offer the option of opting out of this stipend deduction. The caterers we work with are happy to provide special meals for those with dietary restrictions and/or food allergies. 
Monday and Wednesday evenings are free, and participants are encouraged to explore the lively dining and entertainment scenes in Greenfield and nearby Amherst and Northampton. A list of restaurants, with those that deliver noted, is here. For those staying in the dorm, leftovers from earlier meals are often available as well. Please note that there are no fast-food restaurants in Deerfield. 
Feel free to bring your morning cup of caffeine with you to the workshop. Coffee and tea are available starting at 7:00 am. We'll provide hot and cold beverages during the day. 
FOR THOSE CHOOSING TO STAY IN THE DEERFIELD ACADEMY O'BYRNE- CURTIS DORM
For approximately $335 for 5 nights lodging, teachers might opt to stay in an air-conditioned dormitory (available Sunday afternoon through Friday) at Deerfield Academy, a private school ideally located in Old Deerfield Village. The dorm is directly behind the Deerfield Teachers' Center, where the bulk of workshop activities take place- a very short walk away. All rooms are single occupancy and rooms lock from the inside, but not the outside. Lockable space is available in the Teachers' Center. Bathrooms are communal, with one provided for women and another for men. The dorm is air-conditioned and has WI-FI. 
The following will be provided:
sheets and pillowcases
2 pillows
2 blankets
5 bath towels
5 hand towels
5 washcloths
For those opting to stay elsewhere, a list of local motels and bed & breakfasts in a three-to- five-mile radius from Deerfield can be found here.
A form for noting your housing preference and dietary concerns is here. 
There will be little time for independent sightseeing and shopping. If you wish to extend your stay to continue exploring the area, the Deerfield Academy dormitory will not be available beyond Friday of the workshop week, but we will provide a list of area motels and B&Bs.
We discourage participants from bringing family members because this is an intensive residential professional development experience for K- 12 educators. Plan to be happily busy!
For those accepted to the program, more detailed information will be provided with the readings that we send in May of 2022.